Public Schools in Antigua and Barbuda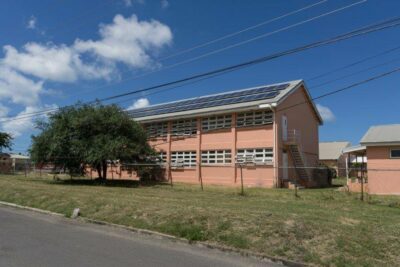 Sun2roof energy solutions secure public education
The government of Antigua and Barbuda (GOAB) supports the development of renewable energy, in order to obtain their independence from diesel engine generators and energy outages. With this in mind, GOAB made a deal with one of our joint partners, PV Energy Limited, to develop a clean energy project that delivers a total of 10 MWp of solar energy.
Next to the large facilities with a total of 8 MWp, GOAB pursuits their clean energy focus through the development of other small projects. Equipping over 50 school and other buildings with reliable energy solutions (Sun2roof solar panels) from PV Energy, with this task Antigua and Barbuda takes part in their commitment in new renewable energies and sustainability. To this date, over 12 schools have been equipped with energy solutions that safeguard the environment. The students of Bendal elementary school have benefited with a sun2roof solar panel system, since June 2016, capable of generating 130,7 kWh of green renewable energy per day, saving up to 25.260 kilograms of carbon dioxide emissions.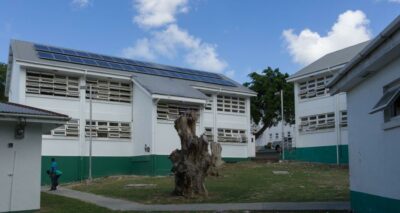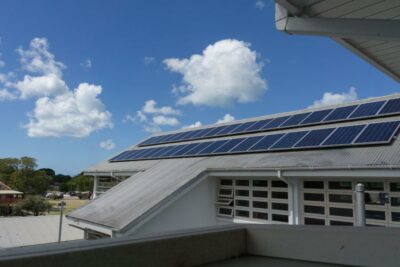 The photovoltaic installation on the roof of the Hotel Training Institute, generates 257 kWh of solar power per day, saving 49.697 kilograms of CO2 emissions per year, the solar panels on the roof of Antigua Girls High School generate 355.6 kWh of clean energy per day and save 68.740 kilograms of CO2 per year.
 During that time period, PV Energy installed sun2roof solar panels in different schools, supporting the process of energy reduction and the dependence of the twin islands on fossil fuels. Adding to this, many buildings of the Social Housing Project are benefitted with sustainable solar energy solutions that safeguard the environment.
A local team of experts is working day and night to undergo the 10 MWp clean energy project, with the task of reducing pollution caused by diesel. The key goa of this Caribbean Island to reduce their carbon footprint.