Photovoltaic Installations
Alicante
Our solar panel installation budget is the most convenient in terms of price and quality of service.
We are a company with more than 21 years of experience, a permanent work in R + D + i, and an enormous capacity to meet objectives.
The regulations in force, in full development and modification due to the advancement of new technologies, offer an excellent guarantee of completion of the work.
Self-consumption facilities connected to the grid
Contact us now, and our professionals will advise you on the best option for the installation of your solar panels.
Isolated self-consumption facilities
This is your moment, this is your opportunity, call us and you will see how much we can do for you.
Swiss Design and German Engineering
We work with long-term solutions, respecting the environment and creating a sustainable world.
Electric Supply 24hs 7 days a week.
We carry out solar panel installations tailored to each home, ensuring the flow of solar energy.
Frequently Asked Questions
Q&A
Can I install solar panels in Alicante?
Of course. In the BOE of October 5, 2018, the so-called "Sun Tax" is eliminated, through Royal Decree Law-15/2018.
This Royal Decree opens the doors for individuals (individually or collectively) to have their own source of solar energy at home.
On the other hand, there are more and more subsidies and aid in each Autonomous Community.
Is it profitable to install solar panels in my home in Alicante?
It certainly is. If you connect to the grid, in self-consumption, the surplus generated can be sold to electricity companies that are large providers of electricity service.
The important thing is not to make the mistake of placing an installation that is too large, since that would cause the surplus to lower its starting price and it would not be so profitable for you.
And it is also profitable for the cost, significantly lower than conventional installations and with a rapidly amortizing investment.
How much does it cost to install solar panels for self-consumption?
Two are the basic elements that influence the cost:
The quality and consequently the guarantee of use and the time of use of the material.
The size of the facility.
How long does it take to install solar panels in a normal home and what is the best place in the home?
Installation is quick if the contracted installation company has the stock to do it.
And, in addition, the ideal place is the roof facing south, since, in this way, taking into account the solar movement, it is when that energy is most used.
See our website and you will find these and many other answers to your questions.
Why do we recommend using solar panels in Alicante?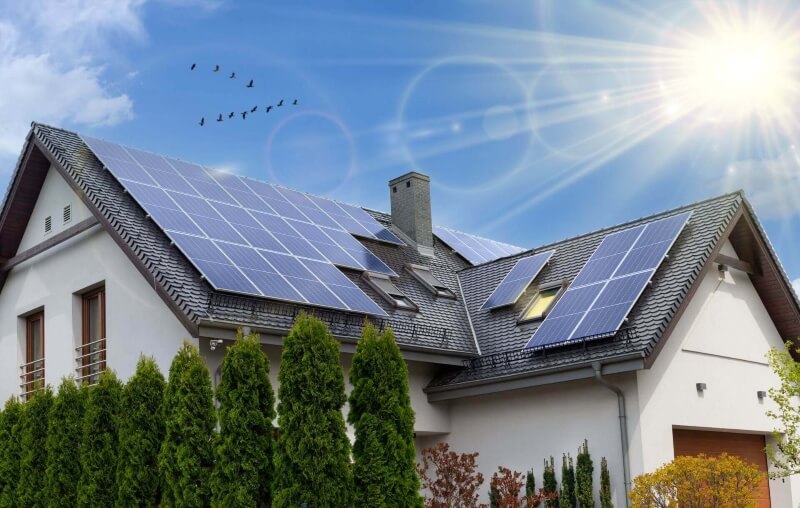 Renewable energies and their evident progress in the construction of homes in Alicante and the use of solar power in a more efficient way, make unquestionable the need to think of this option as one of the most powerful in these highly technological times.
We can use solar panels as a very simple way to improve and reduce the consumption values ​​of the energy consumed.
Among many other benefits, of course, there are no gas emissions, there is no greenhouse effect, and, what is more eloquent, there is no need to burn fossil fuels.
This results in an individual contribution, which, added to many other equal ones, acts directly on the speed at which climate change is taking place. An environmental situation to which we must all contribute.
And, without missing Mother Nature, who keeps the sun on us every day to take advantage of its inexhaustible heat.
Sunlight is converted into clean, quiet electricity during the day.
Our home has cheaper heat and electricity, and that energy is renewed every day when the sun rises.
On the other hand, there are tax aid and bonuses that will help you better maintain your solar panel installation in Alicante and pay even less for it.
And there is even more: by installing a battery with your photovoltaic system, you can store solar energy that is not used during the hottest hours, to be able to use it later.
And if they are for self-consumption, you can sell the remainder to the electricity distribution companies, so the installation will pay off very quickly.
Namely:
Lower expense,
Greater energy efficiency,
Quick payback,
And obtaining benefits for the remainder.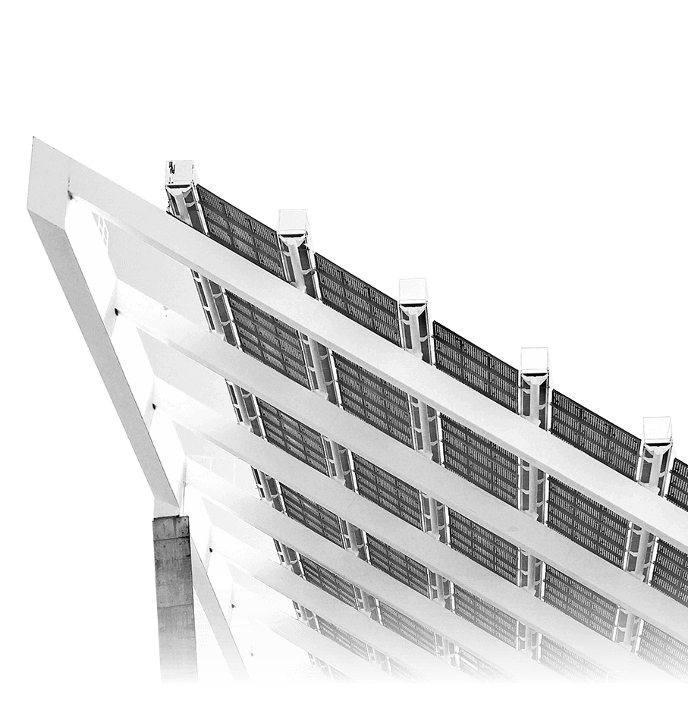 MEECO: YOUR SOLAR PANEL INSTALLATION COMPANY IN ALICANTE
Simplify electricity costs with our installation of solar panels throughout Valencia.
Photovoltaic Self-consumption in Alicante: Renewable energies are the future
When the history of large-scale renewable energy began, the first step was large hydroelectric dams, many of them operating for years, taking advantage of the power of water.
Then came wind energy, also old but deeply renewed, which historically used to work in conjunction with some mills that used water and wind at the same time.
And our solar energy company in Alicante that appeared later, but has meant a giant step in the cheaper and cleaner use of solar energy.
Without a doubt, the advances and progress of society contribute through more effective uses of this dynamism.
Also counting on the fact that technologically they are increasingly light, efficient and more receptive to sunlight.
It is important to note that, for the installation of solar panels, to which our company (Meeco) is exclusively dedicated, only very simple studies and calculations are needed, especially regarding the inclination of the panels.
For each site and time of year there is a necessary inclination. And to calculate the inclination, normally its own algorithm is used that tells us what the incidence of the solar angle is for that particular situation, in each month of the year.
Solar panels, (there are different brands and sizes), are made up of modules, and these in turn of photovoltaic cells.
Each of these cells has several sheets of electricity semiconductor material, and they are protected by a transparent glass that allows them to absorb the sun's energy.
As this happens, heat loss becomes more efficient and minimal.
Solar panels are placed in such a way that they form modules in series or in parallel.
They generally represent 60% of the total cost of an installation, but once placed in the correct way, they produce 90% of the energy we need.
Before starting a photovoltaic installation we should foresee
What will be the orientation and inclination of the plates to be installed. Logically the orientation must be to the South (in Alicante), for the maximum use of sunlight.
And the inclination will be a function of the latitude and the use that will be given to the installation (floor or ceiling).
Consider that the

 

photovoltaic installation

 

must be carried out in the appropriate way so as not to have energy losses afterwards.
This above has to do with point 1 because it is based on the necessary ORIENTATION / INCLINE relationship.
Being an energy taken from the sun, the shadows and the days in which the sun is not seen by the clouds, must be taken into account. Especially because if we install a structure of solar panels in series, that plate that remains in the shadows will take away the effectiveness of the remaining plates.
In order not to make bulk errors, a prior study of the environment of the site where the solar panels will be placed is necessary, avoiding shadows of any kind.
As for the support structure, it must always be prepared to support the weight of the plates. Something that seems obvious, but although we can place them on roofs, whether flat or inclined, on corrugated roofs, on metal roofs, etc., the security of the support must be anticipated.
Something that solar panel installation companies must take into account is that being outdoors, the solar panels must withstand winds, storms and / or any atmospheric change that influences the structure.
 
The actual placement of the solar panels
The solar panels are placed with the appropriate inclination, always according to the solar radiation on the site and latitude of installation.
That is determined, as we have already said, by calculations of the solar direction in each place in Alicante, Spain, and on the planet.
The position is fixed, and that makes maintenance much easier, although periodic cleaning is necessary, since being outdoors it is very likely that they will have dust, leaves, dirt, etc.
The electricity in the plates is produced because when they receive sunlight they allow the movement of electrons, which generates a direct electrical current.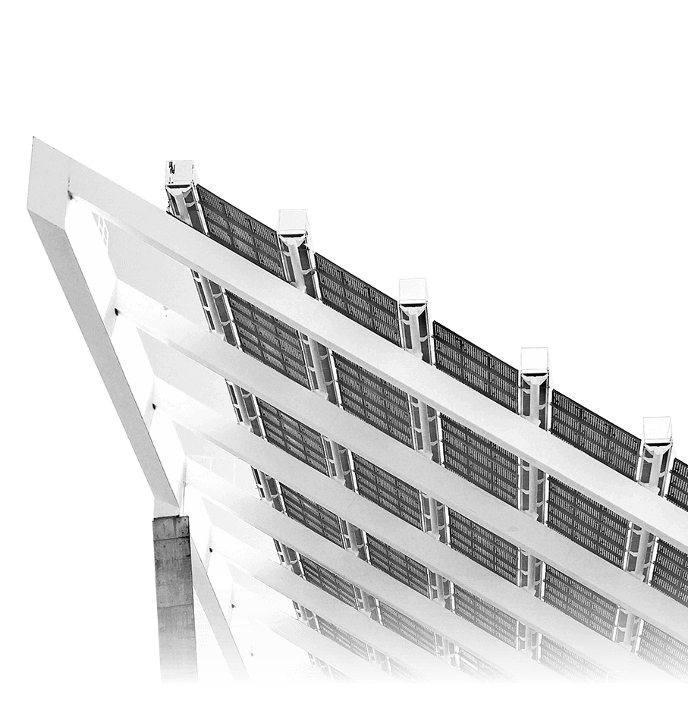 Solar panels are one of the best options for obtaining electricity. cheap energy, easy to pay for and zero maintenance.
Tax aid and bonuses

for solar energy
We will take as data those belonging to the Province of Alicante and its main cities.
The bonuses on IBI and ICIO can be seen in this table and here.
ALCOY

IBI: 50% for 4 years
ICIO 95%

ALFÁS DEL PI

IBI: 25% for 5 years

ALACANT (ALICANTE)

IBI: 50% for 3 years
ICIO 50%

ALTEA

ICIO 95 %

ASPE

IBI:  30 % for 5 years
ICIO 30 %

BENISSA

ICIO 50 %

CASTALLA

ICIO 95 %

COCENTAINA

IBI:  50 % for 5 years
ICIO 95 %

DENIA

IBI:  10 % for 5 years
ICIO 95 %

ELDA

ICIO 50 %

ELX (ELCHE)

ICIO:  50 % for 5 years

IBI

ICIO 50 %
IBI:  50 % for 5 years

XÁBIA (JÁVEA)

ICIO 95 %
Aid can be requested at www.ivace.es
INCLINATION OF THE SOLAR PLATES IN ALICANTE
In the case of having constant consumption during the year, the ideal inclination of the solar panels is 35 degrees.
However, if the house is to be used exclusively at certain times, it will be necessary to see which is the most suitable slope and which produces the maximum efficiency in the absorption of solar energy.
Ideal degree of inclination of the solar panels, every month of the year, in Alicante Capital
| | |
| --- | --- |
| MONTH | IINCLINE / DEGREES |
| JANUARY | 63 |
| FEBRUARY | 55 |
| MARCH | 42 |
| APRIL | 26 |
| MAY | 13 |
| JUNE | 5 |
| JULY | 8 |
| AUGUST | 21 |
| SEPTEMBER | 36 |
| OCTOBER | 51 |
| NOVEMBER | 60 |
| DECEMBER | 65 |
| AVERAGE FOR THE YEAR | 35 |
Aid can be requested at www.ivace.es
AMORTIZATION OF PHOTOVOLTAIC SELF-CONSUMPTION IN ALICANTE
| | |
| --- | --- |
| ÍTEM | VALUE |
| INSTALLATION COST | 4.000 € |
| AMORTIZATION PERIOD | 5,5 años |
| AVERAGE MONTHLY SAVINGS | 60,12 € |
| SAVINGS TO 25 YEARS | 18.036 € |
There is a range of subsidies at the level of each CCAA, which you can see here.
Aid can be requested at www.ivace.es
IMPORTANT NOTE: The data provided here is indicated as a guide and may differ from the final values. For greater precision send an email to conectandoalsol@meeco.net.
And we will give you the current values ​​for the specific installation that you are consulted.